So in the midst of struggling to make a scrapbook of fashion inspiration images taken from magazines, I, for the 1231234th time in my life, realized how unskilled I was in drawing/cut&pasting/labeling...leave those to the gifted artists- I am a writer for crying out loud! So then I decided since writing IS my cup of tea, I shall create a blog on my own (I've always been a big time blog follower myself) and maybe use this as my own source of an "electronic" scrapbook- recording all my inspirations and such. Sounds good to me!
So... I was trying to think what could make a good starter post, and it rung in my head- red carpet magic! (So you'll notice I use certain words over and over...and over i.e. magic, genius, fabulous, and more magic) Award season is here, and I usually skip through the nominations and go straight to the red carpet run-through. I was a bit skeptical of this year's Globes (I remember last year's rainy weather that ruined the spirit for me) but I was proven wrong (pleasantly!) Okay, enough of the ramble and here's MY outlook on the glitz and glamor.
I know...I know... You've probably seen Angie hit every magazine and blog's "Best Dressed at Globes" list, but I just HAD to include this glamazon into MY list! Angie always makes red carpet fashion look like a piece of cake- and this year's Globes was no exception to her effortless beauty! Jeweled tones are the upcoming trend for S/S 2011, and can you just LOOK at that sparkle on the one-of-a-kind Atelier Versace gown? As for her makeup- not too much, not too little. Her skin is porcelain and flawless as usual, with a little emphasis on her dark eyeliner and lashes. Her hair is - as usual, again- tossed in effortless loose waves. The structured shoulders and unexpected long sleeves make this look......wait for it- magic. No wonder Brad Pitt is so in love...
So Scarlett may not be on the top of every Best Dressed list, but in my list, she's a treasured favorite! It may just be a biased decision because her dress- and look altogether- epitomizes my personal taste on the red carpet- sparkles, frilles, chiffon detailing all scream for my name! This dress is so figure flattering to Scarlett, with the slightly plunging neckline, flowy sleeves and sinched waist. I am so in love with this ultimate princess number (remembering my fashion orgasm when Cameron Diaz had her princess moment at the 2010 Oscars) and Scarlett could not have looked more dazzling. Her perfectly pale skin seems to blend right in with the cream colored gown- UGH! amaaaazing.
I am a slave to Blair Waldorf- but I usually despise Leighton Meester's personal style with a passion (with an exception of a handful of looks I can remember- but you see, every true fashionista should have so many amazing looks that you shouldn't be able to remember all of them anyways.) But this year's Globes renewed my love for this lovely girl. I don't know if it's, again, my personal style (everything girly, lacy, etc.) being biased but this girl nailed it with the long-sleeved trend and the cream colored Burberry Prorsum gown that fit her very, very well. The gathered puffed sleeves and the slit that revealed just enough: perfection. What caught my eye was the Louis Vuitton gold clutch: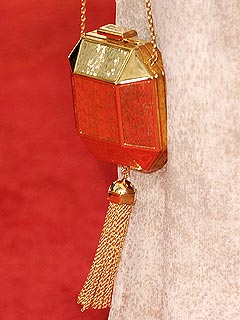 And her Jimmy Choo platform sandals!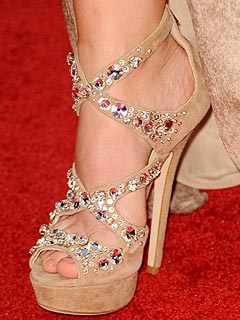 IMO, Leighton redeemed herself completely.
I will be awaiting for another magical moment at another awards season, Ms. Blair!
How could I ever leave Ms. Anne out of my list? I shall say I love the long-sleeved trend as much as the stars do. This sparkling- and breathtaking-
Armani Privé gown was just too perfect for words! Her hair, her makeup- and her famous smile made this look complete- with no other accessories necessary!
Sandra's dress started my most recent designer obsession for Jenny Packham. Personally, I think she (Bulock-not Packham ahahah) should be with Ryan Reynolds, but that's another post of celebrity gossip I would have to write. The one-shoulder detail, the sparkling beaded dress, the perfectly cascading train, and the bedazzle to go with the gown: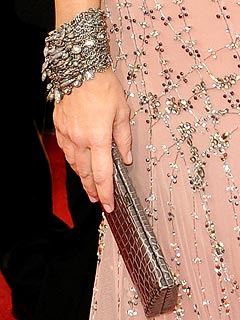 all prove that Sandra's looks better single! Seriously.
All photo credit goes to elle.com and jewelry close-up shots to people.com
Okay so that ends my belated list of the best dressed stars at the 2011 Globes. I am delighted to see color, sparkle and just plain beauty return to the runway, and I can't wait for the SAG Awards now!
Oh, and other praised looks including the looks of Natalie Portman, Lea Michele, Jennifer Lopez, Mila Kunis and Michelle Williams all had something missing (once again, IMO) that didn't qualify for this list...(this may be my little disclaimer)