Let's talk about Jessica Alba.
Amazing body (and her famous, toned legs.)
(Seems like) A good personality.
What is there not to love about Jessica Alba?
I've seen her being featured as one of the most stylish stars (and moms) in the world, and she's a fashion muse/role model to many.
And all this just adds to my confusion of why I never really loved her style.
Sure, she dresses well, but I was never wow-ed by any of her street-style looks that she's so admired for. Please don't judge me- people have different taste!
I was browsing through Instyle.com when I spotted the Look of the Day for January 26th- yesterday- of Alba in this Gucci mini. Check it out for yourselves: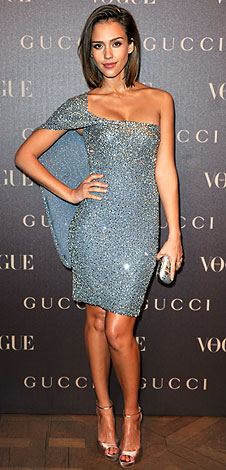 So maybe it's me and the lifelong relationship I'll have with everything glittery, but this look Jessica wore was the first in many years where I felt she truly looked good from head to toe- including her chic bob! Jessica's always in shape (she instantly went from just-had-a-baby to supermodel in like, 2 days.) and that makes her such a good model for any clothing.
So Jessica may not be my number one role model for street fashion, but I think she nailed every inch of this look that she wore to the Gucci event! And besides, this girl is just
drop dead gorgeous. End of story.